EMERYVILLE, Calif., June 27, 2018 /PRNewswire/ — Berkeley Lights, Inc. (BLI), a leader in digital cell biology, announced today that it has entered into a collaboration with ChemPartner Co., Ltd. (ChemPartner) focused on accelerating ChemPartner's monoclonal antibody (mAb) discovery workflow utilizing the Beacon® Optofluidic platform. The goal is to expand ChemPartner's antibody discovery service offerings.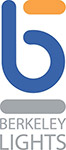 Through the collaboration the companies will combine BLI's antibody discovery platform for B cells with ChemPartner's expertise in assay development. The Beacon platform is capable of automatically screening thousands of plasma B cells or gene-edited cells, which speeds up a traditionally time-consuming, manual process. Cell characterizations are performed through a variety of serial or multiplex fluorescence assays to determine antigen-specific binding to membrane-bound targets on live cells, relative affinity, and functional response with reporter cells. Individual cells with the desired characteristics are selected and exported for genomic profiling or further interrogation. Using this platform, plasma B cells can be characterized in less than eight hours.
"This collaboration between ChemPartner and BLI brings together leading technologies and expertise from both companies to offer innovative scientific solutions to the biopharmaceutical industry. We look forward to this exciting beginning to our collaboration with BLI as we continue with our mission to provide our clients with cutting edge science and technology," said Wei Tang, President of ChemPartner.

"We are excited to collaborate with ChemPartner, an industry-leading Contract Research Organization (CRO) well known for their antibody discovery and development services, to implement the Beacon platform in their monoclonal antibody discovery workflow," said Andy Last, Chief Commercial Officer at Berkeley Lights, Inc. "Through this program, we plan to deliver a new level of speed and precision that, we believe, is unattainable with other methods."
To learn more about the Beacon platform's Antibody Discovery Workflow visit: https://www.berkeleylights.com/beacon-applications/antibody-discovery/
The source URL:https://www.prnewswire.com/news-releases/berkeley-lights-and-chempartner-collaborate-on-accelerating-antibody-discovery-300672784.html
---
About ChemPartner
Shanghai ChemPartner is a full-service life science CRO with over 15 years of pharmaceutical research experience. With a team of over 2000 experienced scientists, hundreds of western-trained pharmaceutical industry leaders, and experienced pharmaceutical executive leadership at the helm, ChemPartner is aligned and dedicated to technically and strategically accomplishing the research initiatives of pharma and biotech companies worldwide.
About Berkeley Lights:
‪Berkeley Lights, Inc. (BLI) Berkeley Lights is a digital cell biology company that develops and commercializes platforms for the acceleration of discovery, development, and delivery of cell based products and therapies. At the intersection of biology, technology and information, our platforms automate the manipulation, analysis and selection of individual cells, creating ultimate scalability and deep cell insights. The Beacon platform* is ideally suited for cell line development, antibody discovery (including direct B-cell workflows), gene editing, and antibody engineering workflows. Each workflow provides a 100 fold increase in insights, 10 times faster, at a fraction of the cost. For more information, visit https://www.berkeleylights.com/.