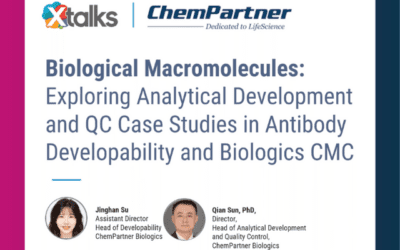 Biological Macromolecules: Exploring Analytical Development and QC Case Studies in Antibody Developability and Biologics CMC
Presented by Dr. Jinghan Su, Assistant Director and Head of Developability, and Dr. Qian Sun, Director, Head of Analytical Development and Quality Control at ChemPartner.
Abstract:
Biological macromolecules (monoclonal antibodies, recombinant proteins, fusion proteins, antibody-drug-conjugates, polypeptides and vaccines, etc.) are powerful therapeutics, and their characterization has drawn considerable attention and urgency in the biopharmaceutical industry. A developability assessment at an early stage can provide a better understanding of candidates, deliver better and safer therapeutic candidates and reduce risk during late-stage development.
Antibody quality attributes that are critical to development and traditional and state-of-the-art analytical methods to monitor those attributes
A practical workflow for developability assessment, including in silico evaluation, extended characterization and preliminary stability studies using appropriate analytical methods
Case studies on conducting developability assessment experiments