The 18th International Forum on Biotechnology & Pharmaceutical Industry (Bio-Forum) was successfully held in Shanghai International.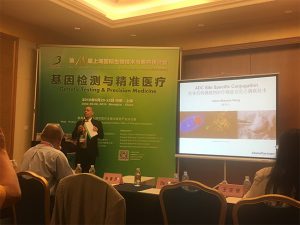 Convention Center on June 20th-22nd, 2016.  Key themes of this conference revolves around the new technology and new development in the areas of novel drug development, clinical researches, biotechnology and pharmaceutical industry, as well as international technology transfer, transformation of sci-tech achievements and financial incentives. Meanwhile, some project promotion and exhibitions were carried out throughout this platform.
Over the past 10 years, Bio-Forum has evolved into an influential international conference in the area of biotechnology and pharmaceutical industry, which was always being supported by Ministry of Science & Technology of the P.R.C, State Food and Drug Administration, Science & Technology Commission of Shanghai Municipality, Shanghai Food and Drug Administration. This conference consists of different parts, including keynote speech, parallel sessions, partnering and exhibition, which attracted about 600 experts, scholars, entrepreneurs and government officials from home and abroad.
In the parallel session "Genetic Testing & Precision Medicine" on the afternoon of June 21st, Dr. Jason Xiang, Vice President at Shanghai ChemPartner, delivered an exciting speech on "ADC Site-Specific Conjugation Technology". ChemPartner is amongst the largest and most experienced Chemistry Service Organizations in China, which excels at MedChem design, custom synthesis, library synthesis, as well as peptide, nucleoside and natural product chemistry.
With a force of nearly 1000 Synthetic and Medicinal Chemists, ChemPartner has access to state-of-the-art instrumentation, modeling, property prediction and structure based design tools, including a comprehensive suite of commercial software for every stage of discovery, analytical (including chiral separation), compound and project management support. Except Zhangjiang site, ChemPartner also has sophisticated labs in Chengdu and San Francisco, and has experience in driving our clients' projects independently for virtual companies, co-piloting with our clients' in-house experts and providing extensive and effective chemistry services. The Medchemists also worked closely with the biologists and DMPK colleagues to deliver on multiple preclinical integrated projects that yielded multiple clinical candidates for clients.