The third Protein & Antibody Engineering and Development Summit (PEGS CHINA) sponsored by CHI (Cambridge Healthtech Institute)  was held in Shanghai  Pudong  Grand Hyatt  Hotel on Apr 5th, 2016. More than 200 participants from China, the United States, Europe and other Asian countries have attended the meeting which lasted for 3 days. The meeting aims to provide a platform for overseas scientists and Chinese researchers to discuss biomedical technology face to face.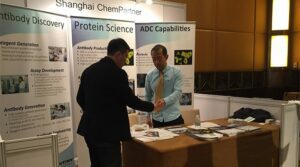 Gathering more than 60 industry elites all over the world in this summit, there are four conferences  and one seminar have been discussed warmly. The lecturers made a brilliant presentation related to  "Protein & Antibody Engineering", "Analytical Characterization of Biotherapeutics", "Next Generation Cancer Biotherapeutics", "Protein Aggregation & Stability" and "Clinical and Regulatory Strategies for Domestic and Global IND and BLA Filings". The experts also proposed the viewpoint regarding development trend and future outlook of  bio-pharmaceutical industry in China respectively.
Chempartner, as one of the exhibitors at booth #1 overflowing with attendees, introduced the research achievement of "XDCE01 antibody-drug conjugates as the potential therapy for solid tumor", which showed the capability of leading position in biotechnology research and development area.
China's local enterprises focused on drug development of biological treatment has increasingly resurgenced, biological investors will pay more attention to industry strategic alliance with domestic enterprises in the near future. The prospects of China Biopharmaceutical industry will be brighter.