Shanghai, China (July 6th, 2017) – Shanghai ChemPartner recently exhibited at the 16th International Biotech & Life Sciences Exhibition & Conferences on June 28-30 at the Tokyo Big Sight in Japan. BIOtech Japan is Asia's leading biotechnology and pharma R&D event specialized in biotech, drug discovery, pharmaceutical development, regenerative medicine, and personalized medicine.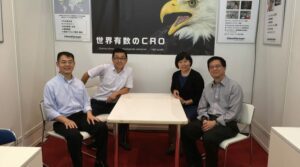 This comprehensive event gathered 650 exhibitors, and nearly 2000 industry insiders, including conference delegates, keynote speakers, sponsors, and guests from Asia as well as other countries around the globe. BIOtech Japan provides interactive networking opportunities involving academics, biotech companies, and pharma companies. Participants benefit from 250 wide-ranging presentations delivering new technical data, case studies, innovation, and industry brilliant insights.
ChemPartner's biology and DMPK teams attended the exhibition to introduce ChemParter's services to attendees. The Biology department specializes in drug discovery services for several important therapeutic areas, such as oncology including tumor immunology, immunology/inflammation, neuroscience and metabolic disorders. ChemPartner prides itself on numerous validated key discovery assays and assay panels (e.g., largest cancer lines, epigenetics, histology/pathology) for different targets. Assays and panels are routinely used and customized, and in vivo models are performed in the AAALAC approved, state-of-the-art animal housing and breeding facility.
The Drug Metabolism Pharmacokinetic (DMPK) & Exploratory Toxicology department at ChemPartner consists of bioanalytical (regulated- and non-GLP), in vitro ADME, pharmacokinetics, and toxicology groups. The team works closely with internal medicinal chemistry, pharmacology, and biologics departments, providing support for drug discovery as well as translational medicine through expertise in formulation, in vitro-in vivo extrapolation, PK/PD modeling, biomarker analysis, and metabolomics.
The company looks forward to attending BIOtech 2018 to see the latest news and innovations in the industry!
---
FOR MORE INFORMATION
Livia Legg, MS, Chief Commercial Officer
news@chempartner.com