On April 24th, 2016, Qidong in Jiangsu Province witnessed the Launching Ceremony of Phase I Construction at ShangPharma and Qidong Biopharma Industrial Zone. Mr. Michael Hui, the chairman and CEO of ShangPharma Group made a speech, introducing the plan of this construction project. The biopharma industrial zone is a critical part of the global strategy of "ShangPharma Pharmaceutical Ecosystem".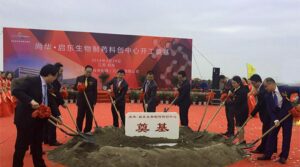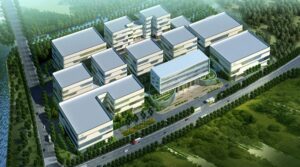 The Phase I Construction will be completed within two years, with the total investment of about 500 million RMB. It's expected to be fully operational by 2018, including three research facilities: biopharmaceutical antibody manufacturing plant, animal experiment center for preclinical novel drug R&D, Innovation and entrepreneurship incubator center.
Biologics manufacturing facility
As the first one meeting the top-notch international standard in Qidong, biologics manufacturing facility will cover 12,000 m2, and become the solid foundation, on which Qidong biopharmaceutical industry boosts. In the future, it does not only  have the capability in antibody drug process development and manufacturing, but also works as first-rate carrier of Jiangsu Province for national antibody drug CMO pilot.
Animal experiment center for preclinical novel drug R&D
With the panned area of 11,000 m2, animal experiment center for preclinical novel drug R&D will conform to the top-notch international standard of animal experiments. In the future, it will undertake government programs of national science and technology department, and lay the foundation to synchronize relevant research, and application field to international peers.
Innovation and entrepreneurship incubator center
Innovation and entrepreneurship incubator center is planned to cover 10,000 m2, and is going to be the first stop of ShangPharma global precision incubation. Relying on the globalization of technology, talent, platform and channel, ShangPharma will create a high-end biopharmaceutical innovation and entrepreneurship platform in Qidong. By making full use of a novel innovation model, and integrating global resources in relevant fields, ShangPharma aims to nurture a group of representatives of world-class enterprises with innovation in biopharmaceutical areas, and to become a platform that is the most dynamic in innovation, the most abundant in entrepreneurial resources and the strongest in incubation service.
"We are very delighted that ShangPharma and Qidong Biopharma Industrial Zone will be located in Qidong Binhai Technology Park", Mr. Jeff He, Excecutive Vice President of ShangPharman Group and General Manager of China Gateway Biologics, said "as the first project of ShangPharma pharmaceutical ecosystem is believed to lay a solid foundation for the whole ecosystem and to provide high-quality innovation services to the clients from all over the world.  "
At the ceremony, Mayor of Qidong Mr. Huang Weifeng and other government leaders witnessed such an important moment and made speeches to extend a warm welcome and their sincere congratulations. At the end, the foundation stone laying ceremony achieved a complete success when the representatives of ShangPharma and Qidong government swung the spades together.
---
About ShangPharma
ShangPharma is comprised of a family of companies including China Gateway Biologics, China Gateway Pharmaceutical Development, ChemPartner, ShangPharma Technology and ShangPharma Investment. The group is actively investing, licensing, and forming partnerships to better serve the healthcare industry. ShangPharma aims, through all its divisions, to create an ecosystem that allows close interaction between major hospitals and academic centers, by matching them with pharmas, biotech, and research institutes to enable the success of all.
About China Gateway Biologics
China Gateway Biologics is a full service provider of biologics manufacturing for the biopharmaceutical industry. It serves both Chinese domestic and international client base from preclinical to commercial scale in China with Western standards.
For more information about ShangPharma and its subsidiaries, visit www.ShangPharma.com.