Through our partnership with single cell technology company Berkeley Lights, Inc., ChemPartner offers the innovative Optofluidic based Beacon® platform at our South San Francisco lab. The nano chip technology of the Beacon® platform enables functional characterization of antibodies secreted from single B cells. The Berkeley Lights technology offers the opportunity for an accelerated antibody discovery workflow compared to the standard hybridoma approach.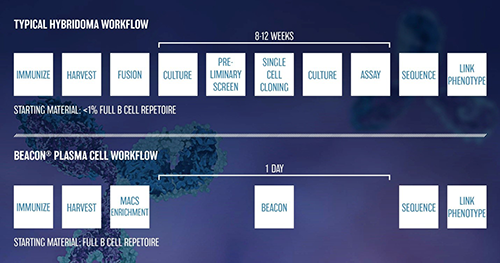 Using the Beacon® platform, we screened thousands of single plasma B cells to identify unique antibodies against PD-L1. We immunized Balb/c mice with recombinant Fc fusion of human PD-L1 extracellular domain (ECD) and isolated CD138+ plasma B cells from bone marrow and spleen from an 8-week immunization.
Plasma B cells from both spleen and bone marrow where penned as single cells onto OptoSelectTM chips for analysis. A series of assays were performed in tandem including bead-based binding assays, cell-based binding to CHOK1 cells engineered to over-express human PD-L1, and cell-based blocking assays using PD-1.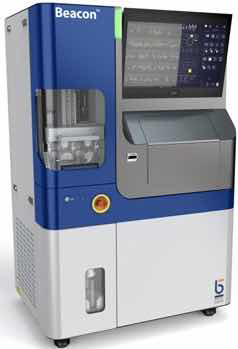 This series of assays on the Beacon enabled identification of roughly 250 antibodies binding to PD-L1, and nearly 20% of them blocked binding of PD-1 to PD-L1 on cells. Interestingly, a majority of PD-L1 specific blocking antibodies were identified from plasma B cells isolated from bone marrow even though the yield of plasma B cells from bone marrow was less than 20% of what was obtained from the spleen. Single plasma B cells were exported by the Beacon® for antibody sequence recovery.
After reverse-transcription, amplification, and single plasma B cell sequencing by NGS, we evaluated the sequence diversity of anti-PD-L1 antibody hits, most of which were divergent across multiple residues in CDR3. After evaluating over 30,000 single plasma B cells, we identified over 40 cell-based binding and blocking antibodies that are in the process of being sequenced, cloned and further characterized.
Taken together, our results from plasma B cell cloning on the Beacon® show that plasma B cells secreting functional antibody candidates can be identified within 1 day compared to 8-12 weeks for the standard hybridoma campaign, thus substantially accelerating the antibody discovery process. In addition, this technology could enable rapid comparison of immunization strategies, mouse strains, and lymphoid organs from which to isolate B cells to maximize recovery of target specific functional antibodies representing the diversity of the immune repertoire.
For an even deeper look, take a look at the poster recently presented at the 2018 Antibody Engineering & Therapeutics conference.
The Beacon® platform expands ChemPartner's broad antibody discovery capabilities to enable access to more of the immune repertoire than previously possible. Now, our global clients have more options to find the desired therapeutic antibody candidates.
INTERESTED IN FINDING OUT MORE? CONTACT OUR TEAM AT USA@CHEMPARTNER.COM.