Immunofluorescence (IF) staining is used to detect and localize antigens (e.g., proteins) in cells or tissue sections by using of fluorescent dye-conjugated antibodies or non-antibody methods of fluorescent staining (eg. DAPI). Compared with immunohistochemistry (IHC), IF is more widely used to detect co-localization of multiple targets with different fluorescent dyes.
ChemPartner offers high-quality and efficient services for IF full assay development, protocol validation, single/double staining, image collection, and data analysis/interpretation.
Equipment: IHC autostainer (Dako AS Link48), fluorescence microscope with 100x oil lens (Zeiss, AXIO Scope A1), etc.
Imaging software: ZEN 2011 (Zeiss), Image Pro Plus, Image J, etc.
Antibodies with established methods
Almost all bright-field IHC staining protocols can be converted to IF staining with fluorescent antibodies.
Tissue types: FFPE and frozen samples of cells and tissue, TMA
Representative Images of IF Staining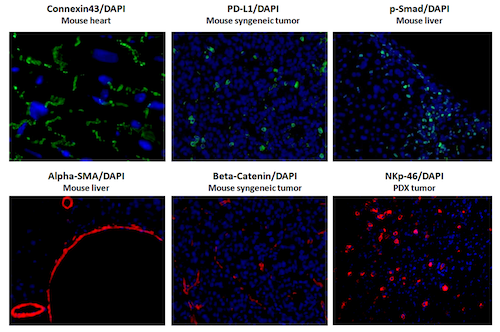 Representative Images of IF Double Staining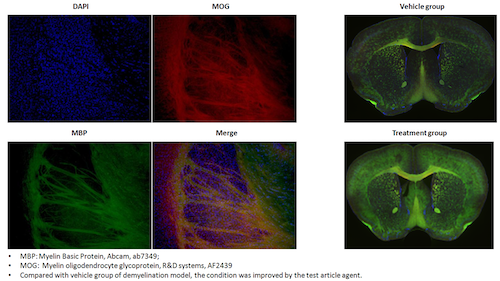 Deliverable:
Raw data together with analyzed data in MS Excel format
Images in JPEG format
Project update and summary in MS PowerPoint format
Final report in MS Word format (including purpose, methods, results, and data analysis)
Sample Submission:
Test samples could be submitted
FFPE blocks of tissues or cells
Oct-embedded samples
Tissues and cells fixed in formalin
Fresh frozen samples