Immunohistochemistry (IHC) is used to detect and localize antigens (e.g., proteins) in cells or tissue sections by exploiting the principle of antibodies binding specifically to antigens in biological tissues.
ChemPartner has accumulated extensive hands-on experience in histopathology that provides support to research in oncology, immunology, inflammation, neuroscience, metabolic and cardiovascular diseases, toxicology, and the discovery of large and small molecule drugs.
ChemPartner is dedicated to providing high-quality and efficient services for IHC assay development, protocol validation, single/double staining, image collection, and data analysis/interpretation. For non-commercial antibodies, ChemPartner also provides full assay development for validation and optimization before formal study.
Equipment: IHC autostainer (Dako AS Link48), digital image scanner (Aperio ScanScope XT ss001310), Nikon Image Collection Microscope, etc.
Data analysis software: ImageScope (Aperio), Image Pro Plus, Image J, GraphPad Prism 5, etc.
Antibodies with established methods: already established IHC methods for 110+ antibodies
Oncology: Ki67, EGFR, p-EGFR, HER2, HER3, HER4, MEK1/2, Akt, p-Akt, ERK, p-ERK, PTEN, HGF, IGFR, c-Met, p-c-Met, c-Myc, n-Myc, E-Cadherin, p-Cadherin, ER, CD31, HIF 1 alpha, Cleaved Caspase-3, VEGF, etc.
Immunology: CD3, CD4, CD8, Foxp3, PD-1, PD-L1, CTLA-4, Iba-1, MPO, etc.
Neuroscience: Tyrosine hydroxylase, MBP, MOG, Doublecortin, NG2, GFAP, etc
Tissue types: FFPE and frozen samples of cells and tissue, tissue microarray (TMA)
Representative Images of IHC staining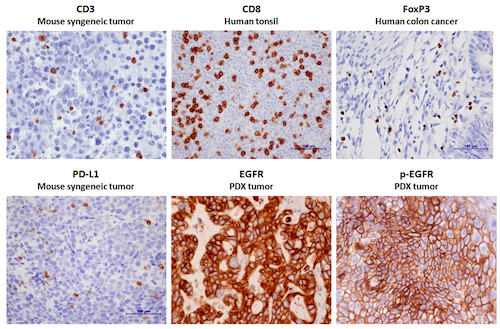 Representative Images of IHC Double Staining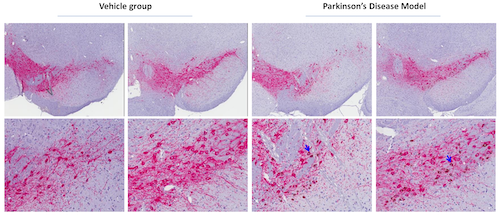 TH(Pink): Tyrosine Hydroxylase, Millipore, AB152, Rabbit IgG; α-Synuclein Phospho (Ser129)(Brown): Biolegend, #825701, Mouse IgG2a
Blue arrows indicate the positive cells of co-staining; Phosphorylation of α-Synuclein Ser-129 is selective and extensive in synucleinopathy lesions
Image Analysis with Aperio Quantification software

Deliverable:
Raw data together with analyzed data in MS Excel format
Ordinary images in JPEG format or scanned images in SVS format
Project update and summary in MS PowerPoint format
Final report in MS Word format (including purpose, methods, results, and data analysis)
Sample Submission:
Test samples could be submitted
FFPE blocks of tissues or cells
Oct-embedded samples
Tissues and cells fixed in formalin
Fresh frozen samples